7-zip
Preview:
7-Zip is an essential tool for many Windows machines. It'll handle many archiving formats, as well as encrypting archives. Here is how and when to use it.

I install 7-zip on all the computers I setup. Since Windows comes with a Zip program already, why? What does the free and open source 7-zip add that Windows doesn't already provide?
What is a zip file?
Normally, a zip file is an archive of many files that you put together and compressed. One zip file could contain 10 or 100 or more files, all merged together as a single file. An archive program can make them and another archive program and unzip them.
There are many archiving programs and archiving systems. Zip is probably the most common format. It creates the archive and compresses the files so they take up less space.
What would you use it for?
You could send all your tax information files to your accountant by putting them all in a single zip file.
You could combine a whole folder of family pictures into a single file to send to other family members.
A lawyer could send many documents regarding a case in a single archive.
Why do it?
For many types of files, the compression used for zipped files can dramatically reduce the file size. If you're sending those files, they will send faster and take up less space on the recipients system.
It's probably the easiest way for most people to send a folder full of files to someone else.
It's often used to back up a program that uses hundreds of files and requires a complete backup.
What do I do if I get one?
Microsoft has a simple
Extract All
option when you right click on the file explorer and point to a zip file. It works well enough. However, 7-Zip provides these right-click options with Windows File Explorer.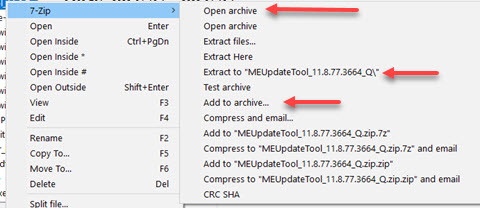 There are three options I use.
Open archive
lets you look inside and see what's there without extracting all the files.
Extract to "filename"
will quickly extract all the files to the folder using the name of the file for the folder.
Add to archive...
allows you to add that file to another archive.
How to make an archive
Simply select the files you'd like to combine into an archive and choose 7-Zip then Add to archive...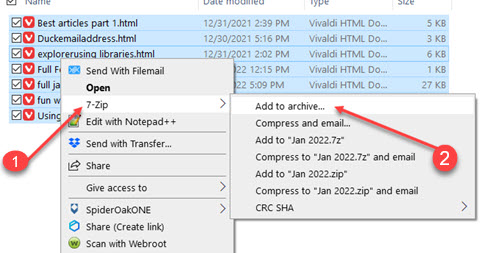 This archive was 18 KB, while the files I'd selected were 50 KB. That's because text files compress a lot.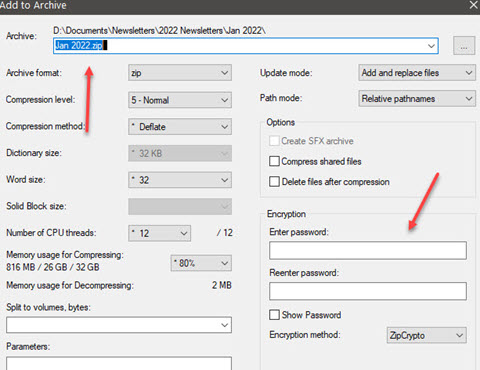 As you can see from the menu, there are many options, but the only one you're likely to need is the Enter password option. Enter the password there, then either call the recipient with the password, or
send it securely to him
.
Microsoft's Zip Encryption
Microsoft hired a single brain celled programmer to create their Zip file encryption system for Windows 10 and 11. I was shocked that it didn't display even dual cell intelligence. Their encryption only works if you're logged into your account on your computer. It won't work for sharing files. It's also unavailable for Windows Home users.
Finally
7-Zip also gives you more control over opening and saving in different formats you might get or need for working with people using different archive systems.
Date: May 2022

This article is licensed under a Creative Commons Attribution-NoDerivs 3.0 Unported License.