Malicious ads in search results!
Article for: Everyone
Difficulty: Easy
Importance: Very. This could save you
Miscreants running scams place ads with search engines like Google, which mimic legitimate sites. But, they direct users to to fake sites which try to scam them. Often these sites try to con users into tech support scams.
The ads appear legitimate. They can gain the top spot on Google's search results. They've done this with fake ads for Amazon Prime, Paypal, Home Depot and others.
Here's one.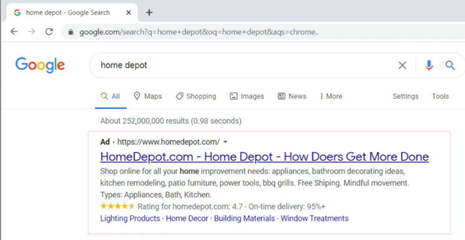 This ad made it to the top spot on Google ads. Hovering over the link appears to direct you to the proper site, so you cannot protect yourself by hovering over the link to check where it goes. This is because between the ad and the eventual destination, you go through ad trackers and end up at the scam site first. They are likely to run print boxes or other windows to prevent you from closing the scam tab.
They further protect themselves by only running the fake ads occasionally and normally send people to the correct site. This makes it very hard for security people to identify the scam.
What to do?
The solution is
never click on an ad
. Just because it is in a search result does not matter. Notice that Google places a bold
Ad
in front of the link. If it has a bold Ad do not click on it. Find the official site.
Here's what I got with a DuckDuckGo search for Office Depot.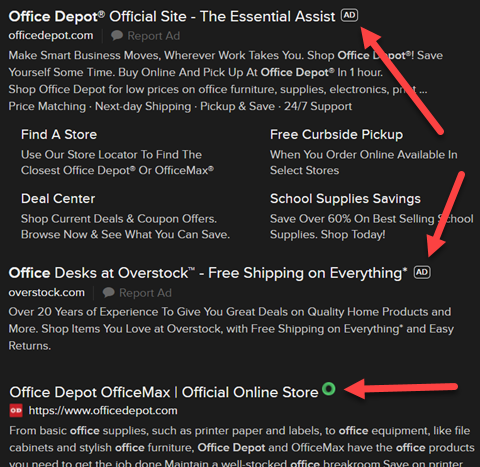 Notice that DuckDuckGo places the
AD
notification at the end of the top line. Also note that the official site uses an official icon before the link (known as a favicon). However, the top ad claims to be the official site. It might be, but a scammer might also just lie, so you cannot trust those words, just like you cannot trust the scam site when they tell you they are Microsoft support and you are infected.
Finally, note that I have installed the WOT (web of trust) extension, which provides the green circle showing that the site is trusted. The web of trust rating is available for most browsers and most search engines. It is useful.
Be careful out there. Millions of miscreants are out to get you.
More information
Date: March 2021

This article is licensed under a Creative Commons Attribution-NoDerivs 3.0 Unported License.