Vivaldi 2 level tabs
Article for: Vivaldi users or those wanting a better browser
Difficulty: Moderate
Importance: Helps organize and save tabs

There are many reasons I prefer Vivaldi to any other browser. I love the customizability of Vivaldi. I love the side panel, the quick commands, and the tab management. In 2021, Vivaldi implemented another new super feature: 2 level tabs. Any tab can have multiple sub-tabs! I currently have 10 tabs open. One regular tab, one tab with 4 sub-tabs and another with 5 sub-tabs.

1 and 2 above show my tab stacks at Vivaldi (4 tabs) and steveshank.com (5 tabs). 3 shows that the vertical size of the tabs is adjustable, which can give you an image of each site. I have it at the narrowest it will allow. This minimum width is adjustable in settings. There are lots of tab control options. I enable the new tab option "
As Tab Stack with Related Tab
". This means when I middle click on a link to open in a new tab, Vivaldi makes it a sub-tab (second layer tab). So, in a search, when I click on a few different search results, they are all created as sub-tabs beneath that search. When I look at various possible purchases while shopping, each is a sub-tab under the store.
You can also view and manipulate the tabs from the Windows icon on the panel. Below, I show the same tabs from the window view.
Either of these views allows you to drag-and-drop tabs around to change their order.
If you don't want to give up the vertical space, but want your tabs on top, you can choose a compact mode in tab settings.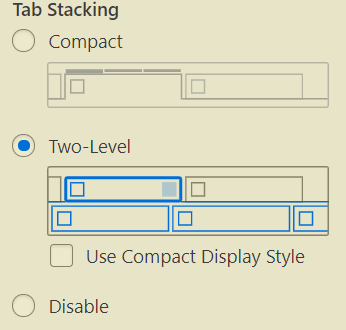 Of course, Vivaldi allows you to position your tabs right, left, top or bottom.
Creating tab stacks
You can create a tab stack in multiple ways. Remember, if you want to force a link to open in a new tab, use the middle mouse button (scroll wheel), to click on that link.
Drag-and-drop: Drag a tab over another to create the stack. You can do this with the tabs themselves, or from the window panel.
Shift-click: Click on a tab. Then hold the shift key down and click on another tab. Vivaldi selects all the tabs between them. You can then choose to stack those tabs from the right-click menu.
Ctrl-Click: Use the control key and click on tabs to select them. Then right click and choose to create a tab stack. You can also do this from the Window panel.
Group under a domain: Instead of just creating a stack, you can create a stack by host. This uses the domain name as the top level tab.
Under the tab settings options, one option is to have new tabs from related domains automatically open as a tab stack. Further links automatically become second-level tabs under that domain. This is how I create tab stacks.
Finally, you can create new top level or 2nd level tabs with the plus signs next to the tabs.

We can do all these either from the Windows panel button or the tabs themselves.
Altogether, this new feature is quite wonderful.
Saving Sessions
Finally, I can't stop this explanation without one more critical tab feature. You can save all tabs or a tab stack as a session. Just select the tabs and right click. Then choose save as a session. You can then name the session and bring it back up from the file menu anytime you like.
Further reading and watching
Date: March 2021

This article is licensed under a Creative Commons Attribution-NoDerivs 3.0 Unported License.