Control your Amazon privacy settings
Article for: Amazon Users
Difficulty: Easy
Importance: Improve your privacy
Amazon collects a lot of information about you, but you have a reasonable amount of control over it if you exercise your power. Here's how.

This lets you know what you've posted on Amazon that other people see, like all your reviews.
Go back to

Your Private view

and make changes if needed. Along the left side is a list of their settings. I keep everything except reviews private.
Under

Edit: public profile

lets you make any changes you like.
Then edit your

privacy settings

as needed.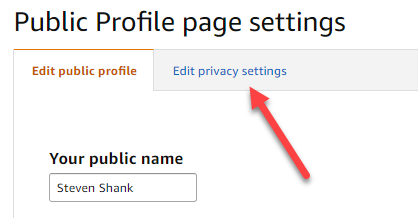 I am happy to let people read my reviews, and if I ever create a public wish list, wedding registry or baby registry I would be happy for those to be public.
Under
Communication and Content
you can choose what you want to receive from Amazon including
Advertising preferences
and
communication preferences.
Now Amazon should be setup the way you want.
Like other sites, be sure and sign out when you are done using their service.
Date: February 2021

This article is licensed under a Creative Commons Attribution-NoDerivs 3.0 Unported License.