Label your stuff
Article for: Everyone
Difficulty: easy
Importance: Can make life easier
I had some problems with my Internet connected phone system last month and decided to re-configure it. Instead of going from the modem to my router and then to the Ooma phone system, I chose to follow their advice for best reception and go from the modem to my Ooma and from the Ooma to my router. This allows the Ooma to prioritize voice calls over other Internet activity.
Before:
Modem
Router
Ooma and phones
After:
Modem
Ooma and phones
Router
This just required swapping some wires around. In the back of my mind there is the worry, "
will I have the right wires?
" To my infinite joy, and honestly a little surprise, my Ooma wire was labeled at both ends! So was my modem wire. I immediately saw what every wire was on both ends and confidently made the adjustment in a few seconds.
The extra time you take to label your cords will make your life a lot easier later and is well worth the investment. Some cords only need to be labeled at one end, but many should be labeled at both ends.
I use
Dotz
cordID labels so they are both labeled and color coded at both ends. My Ooma was green, my modem white. I wrote about Dotz labels in an
article
in Feb 2018. They are also available on Amazon. It made the switch much easier.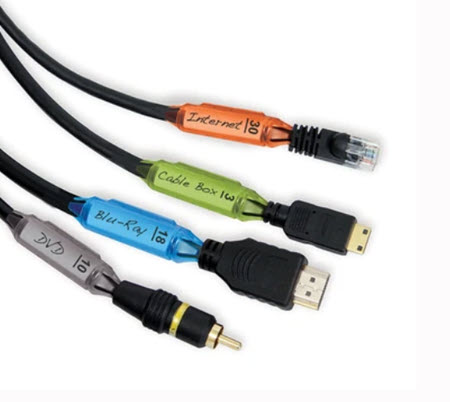 Be warned, their 12 pack is only good for 6 cords, if you label them on both ends.
I'm sure clever people can make their own labels with tape, crayons and paper. That would be a quick free option.
Date: October 2020

This article is licensed under a Creative Commons Attribution-NoDerivs 3.0 Unported License.