Windows Emoji Picker
Article for: people who might want to use an emoji
Difficulty: simple
Importance: Not important. Possibly fun
You can embed little emojis using any program that supports an expanded character set. If the program will display emojis, you have access to hundreds from Windows itself.
Open any program capable of displaying emojis. Your word processor, or email program, or your browser will do it. For example, I just looked up the "Tears of Joy" emoji (😂) from Vivaldi using DuckDuckGo. It took me to
emojipedia
. Emojipedia is a good place to check on the meanings of various emojis.
However, when I looked up the emoticon "I don't know, laughing out loud" ¯\ (°_o)/¯ I had to go to
knowyourmeme.com
.
So, how does it work?
From any program, press the
Windows key
and either
.
or
;
You'll get something like this: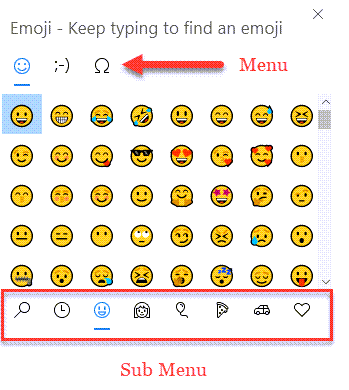 The top menu allows you to choose emojis, or emoticons (also called Kaomojis) or symbols. The scrollbar on the right allows you to view the full selection. The sub-menu at the bottom lets you select from categories of emojis or even search for what you want. All you need to do is click on an emoji to insert it into your program.
Check out your emojis to be sure you are saying what you imagine you are saying and have fun.
Date: October 2020

This article is licensed under a Creative Commons Attribution-NoDerivs 3.0 Unported License.