When a Window leaves the screen
Article for: Everyone
Difficulty: Moderate
Importance: Very useful if you ever need it
Occasionally, a program will open off-screen. Naturally, if it is off-screen, you can't see it. This happened to me twice this year. Once when I bought a new monitor, and once when Windows decided for some unknown reason to switch my primary and secondary screen. It can also happen to people using laptops and a second screen when the app thinks it is opening onto the second screen, but that one isn't plugged in.
There is a simple but esoteric solution to this problem. First figure out where it is hiding. You can click its icon in the taskbar. If it is running, it will appear to bulge out somewhat as shown by my Joplin (J) icon below. Watch carefully as you click on the icon to run it. You should be able to see it open somewhere off-screen. Usually it will open off to the right or left toward the top.

You can then repeat the incantation "
There you are!
".
Now make sure it is in focus by selecting it. Press
ALT-Tab
, then
Tab
repeatedly until you get to your hiding application. This will put that window in focus, even though it is off the screen.
Now the trick! Press
Alt - Spacebar
to bring up a menu for the currently selected app.
Move
is a choice. Select
Move
, then use the
cursor keys
to move it back onto your screen.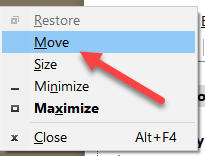 Normally, it will remember where it last opened, so you won't have this problem again, until you do.
Date: July 2020

This article is licensed under a Creative Commons Attribution-NoDerivs 3.0 Unported License.