Blokada: Excellent Android Ad-blocker
(and more…)
Article for: Moderately adventurous
Difficulty: Somewhat complex
Importance: Very useful to stop Ads and some malware
Blokada
is an astounding adblocking open source project for Android. It is free and will increase your security and privacy. However, it will force some of you outside your comfort zones. Ads sometimes contain malware and trackers they reduce your security and privacy. They eat up your allotment of data for those of you who are not on unlimited plans.
Being open source, pretty much eliminates the chance that they are spying on you and selling your information. They released Blokada in 2016 and have been improving it ever since. It is on version 4. They estimate that it is on 200,000 devices (two of which are mine!).
One unusual feature is that it runs directly from Android, not from within your browser. So, it blocks ads in apps you run or even when you aren't running any app or browsing. Even when I wasn't connected to the Internet or running any apps, Android sent requests out and Blokada blocked them.
How ad blocking works
It is very difficult to block content coming into your device. Having to figure out whether each object on a page is an ad is nearly impossible. Since we are usually using secure connections, it must break into your secure connection to even attempt the feat. As a result, most adblockers instead block the domain that the objects come from.
How do they know which domains are advertising or malware sites? There are many people who maintain lists of over 10,000 advertising and tracking sites. There are dozens of well-respected lists of "bad" sites. Adblocking software subscribe to, and keep current, some of those lists. They use those lists to block the places your devices can receive from.
The list Blokada optimizes some lists for mobile devices. A 50,000 site list might bog down your phone! However, they offer about 20 lists. Be careful not to subscribe to too many lists. They can be redundant and also slow down your device. Remember, Blokada checks all requests gainst the lists. I recommend leaving their default list - Energized Blu. They have a smaller list (Energizer spark) and a larger one (Energizer basic). But they offer a range of lists and some descriptions to help you choose.
Again, I recommend sticking with their default list.
Problems
The first problem
that Blokada and you must overcome is that Google's business model is advertising. They do not make it easy to have software that effectively stops ads. So,
you cannot get Blokada from the Google store
. There are a few places you can get it from, I suggest their website. But, before you can install Android apps from outside the Google store, you must change a setting. For older versions of Android, go to
Settings
>
Security
. Tap on
Unknown sources.
Once they got to version 8, Oreo, Google changed their approach. Now they focus on a program's permission to download or install unknown apps, rather that the system's permission to download from unknown sources. So, when I downloaded the F-Droid app from their store, I got this warning.

I selected
OK
, and Android gave me the option to change my settings so that my browser (Brave) could download unknown apps. I went through the same process with I used
Solid Explorer
to click on the app and install it from the download folder.
I recommend turning off the install from unknown sources option when you are done. For Android 8 and 9, I'd leave Blokada with the ability to install, so it can update itself.
The Second Problem
is that to view everything that is going into or out of your device, it sets up a simple virtual VPN. This is not a real VPN. Blokada sends nothing out of your device. But this allows it to channel all Internet requests through their filters. This is not a problem unless you want to use a real VPN. If you do, then it won't work, because Blokada is in the middle between your VPN app and the service. You'll either need to turn off Blokada or use their $52/year VPN service. I don't know how good their VPN service is, so I recommend turning off Blokada when needing to use your VPN service.
The Third Problem
is the ethical one. If you block ads, how can you support the creators who make the apps or web content you use? There are many options:
You can donate to them. I recommend donating to sites and free apps you use frequently.
You can subscribe to many providers.
You can whitelist an app or a site. This may or may not work.
You can turn off Blokada when using that site. I turn off Blokada when I use a jigsaw puzzle site because whitelisting their website didn't allow their advertisement to appear.
Two more features
Besides ad-blocking, Blokada offers DNS server selection. DNS servers are where your devices go to request the address of websites. It is important to have a fast, reliable and secure DNS service and not rely on whatever your data provider offers or the restaurant or hotel you are connecting with has. There are many good ones. My favorite is Quad 9. I wrote about it
here
. Blokada allows you to select from about 20 different DNS Servers.
In addition, as mentioned before, it offers its own VPN service, but I prefer either
Tunnelbear
or
Express VPN
.
A short tutorial
When you open Blokada, this is what you'll see.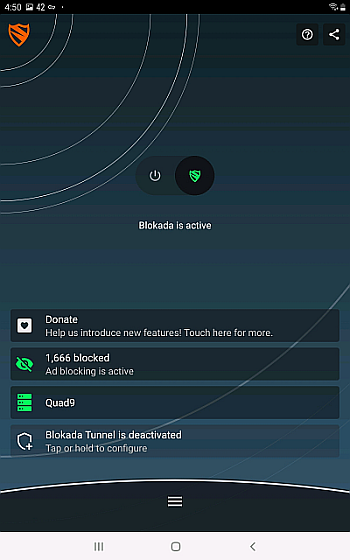 There is an on/off switch, a donate button, a report on how many ads it blocked and the DNS server you've chosen. Blokada Tunnel is their VPN service. The hamburger menu at the bottom (3 horizontal lines) opens their main menu.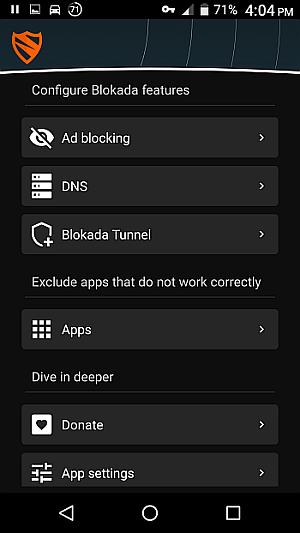 The Apps option allows you to whitelist apps. Remember, Blokada blocks from the base of your system. Any game or news app you run, which requires advertising, could cease to work or nag you viciously. The DNS lets you choose your DNS server. Ad blocking opens up all the options related to ad blocking.
The Host Log shows you what Blokada has been doing. The Host Lists offers many DNS Filter lists to choose from. I recommend sticking with the default. Do not over select. It will bog down your system. Each host in the list provides a short about section to describe the list.
This is what my host log looked like when I opened my device with no apps running and no Internet available. So, theoretically, nothing should be happening.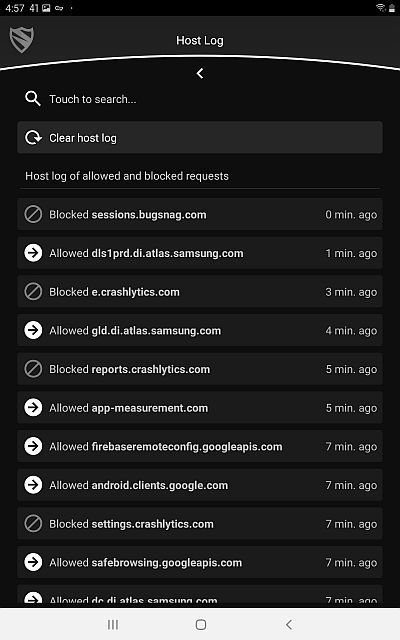 You'll notice that over a seven-minute period my phone tried to contact many places. Blokada blocked some of them.
Date: March 2020

This article is licensed under a Creative Commons Attribution-NoDerivs 3.0 Unported License.