Change Folder Icons
Article for: Everyone
Difficulty: Moderate
Importance: Useful, but not important
I don't normally mess around with how my files and folders look, but occasionally, I like a folder I access frequently to be a little easier to spot. For example, proposals and other client files go into a folder within Documents called Client Reports. I access that folder much more than most and it is nice to have it easy to spot. I also bought a new home and office recently and it is amazing how many files got stuck in there. So, I changed both of their icons in file manager to make them quicker to identify.
I think this is a waste of time if you change very many, because then you are just searching through lots of different icons. If you only change a few, then everything is the same except for a couple that stand out. Then the picture makes them easier to spot.
To change the icon for a folder:
Open file manager
Right click on folder to change
Choose

Properties

Select the

Customize

tab
Choose:

Change Icon

Then select your icon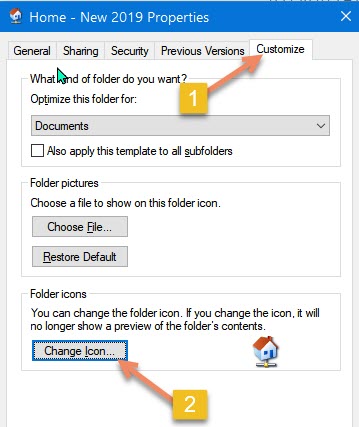 You'll notice that when you do this, you get a rather peculiar choice for your options: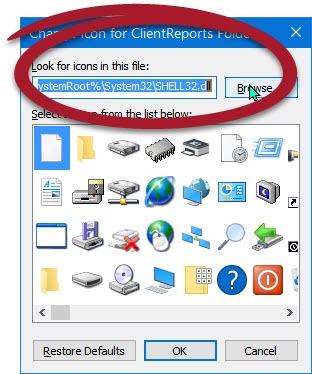 You get to select any icon from the list of many within the file:
SHELL32.dll
. That file is selected for you by default, but you are also given the option to browse for another file chock full of icons for your use. That file is located in the
System32
folder inside the
%System Root%
.
%SystemRoot%
refers to the base system folder, which is usually
C:\windows\
. So
System32
is a subfolder of the Windows folder.
Since most people don't know which of the nearly 15,000 files inside the
system32
folder actually contains lots of usable icons, here are some other options if you can't find what you want inside the
shell32.dll
file.
mmcndmgr.dll (older icons)
imageres.dll (lots of icons used throughout windows 10. This and the default shell32.dll offer the best and most options)
Pifmgr.dll - offers older icons from previous Windows version
wmploc.dll (multimedia related)
dmdskres.dll
dsuiext.dll for networking related icons
Ieframe.dll for old Internet explorer icons
You can also change icons virtually anywhere by following this basic procedure, including your desktop icons.
For more control
File marker.net
Pro is a $35 program that gives you much much more control to change icons, and colors on files and folders. They have a limited free version for non-commercial use if you are a home user.
Date: February 2020

This article is licensed under a Creative Commons Attribution-NoDerivs 3.0 Unported License.