TreeSize Free version
Article for: Anyone who might want to know what files are filling up a drive
Difficulty: easy
Importance: Can be VERY useful in the right situations
Treesize
is a program from Jam Software, that will analyze any drive or folder, including mapped network drives, and show you what is taking up the most space. It has been around for well over a decade and is improving and being updated. If you wonder what is taking up so much space on your drives, or where the big stuff is, then this is a free tool for you. The zipped version is portable. It doesn't even need to be installed.
They have a personal version with more features for $25 and professional which will work on servers for $55. The feature comparison is
here
.
You start by selecting a folder (or drive) to scan. I chose a Data drive,
D:\
which had 85.9 GB total on it.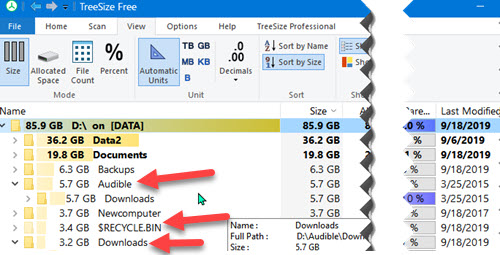 There is information in the columns I cut out, but I wanted the image to be readable. The Backups folder with 6.3 GB contains backups I make with software which in turn gets backed up to an external disk and then to the cloud. The Audible folder has lots of old audio books I downloaded long ago. Notice that the last time I changed something in that folder was March 25, 2015. That was when I setup this computer. I could delete it entirely, because it is all available at Audible.com. My recycle bin has 3.4 GB in it, and my download folder has 3.2 GB.
I can open these folders to see the contents and right clicking gives you all the normal file explorer features including copy, cut and delete. Seeing this, I emptied my recycle bin and deleted some old useless files from download and picked up another 5 GB of space.
It has more features and a graphical view if you like, but these are the basic features and the program is often useful.
Date: October 2019

This article is licensed under a Creative Commons Attribution-NoDerivs 3.0 Unported License.