Firefox Tracking Protection
Article for: Firefox users
Difficulty: Easy
Importance: Very
Firefox continues to be a good choice for privacy and safety conscious users. It is also an excellent browser. Recently they have upgraded their privacy and some security protections. These are easy to use and good additions to Ad-block Plus and privacy badger or other protections you might have. You can access these controls from their
Options > Privacy and Security menu
, but the easiest way is from the left corner of their address bar.
This shows the icons left of the address bar when there are no advertisements or trackers blocked.
This is what the menu looks like when there is ad-blocking or anti-tracking.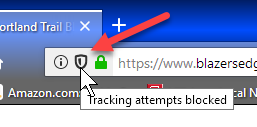 The shield indicates some protection. Clicking in that area with the information button, shield and lock pulls down a menu.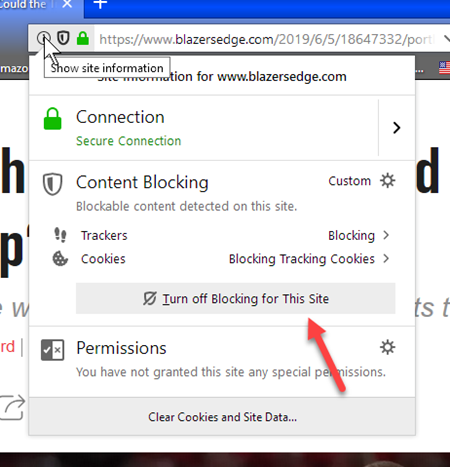 If a site isn't working and you trust the site, you can turn off blocking for that site alone and see if the protections caused the problem. Clicking on the
Trackers Blocking
> or the
Cookies blocking…
allows you to see Firefox blocked.
You can control the content blocking by selecting the Custom settings icon. You'll get this: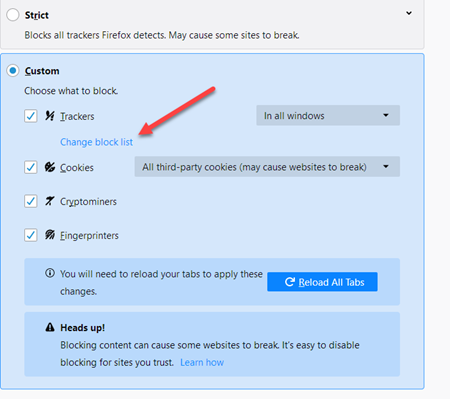 Cryptominers use your CPU to work on cryptocurrency hashes.
Fingerprinters combine many aspects of your computer to uniquely identify you as you move from site to site. I suggest blocking both.
Firefox offers two excellent block lists for trackers. I suggest the less powerful recommended one so you break fewer sites.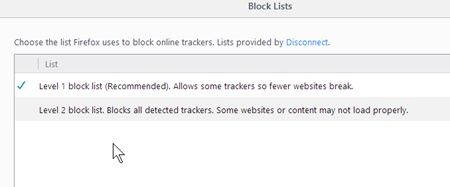 Remember, if you block trackers and ads this way, occasionally a site will not work. Then you need to either go elsewhere, or stop blocking for that site.
Further Reading
Date: July 2019

This article is licensed under a Creative Commons Attribution-NoDerivs 3.0 Unported License.