Home
Forms
About
Current Newsletter
subscribe
Search All Articles
Browse by Category

Fujitsu Home Office scanners


For nearly 4 years I've had a near paperless office and I wouldn't do business any other way. All my receipts and nearly all documents are scanned to searchable pdf files and then shredded. Manuals for products I buy and warranty cards are also scanned. Contracts are scanned. I keep very little paper. Everything can be found and read quickly.

When I started, I began with a Fujitsu scansnap s1100 single sheet scanner. Since I didn't know if I'd really stick with scanning everything, I didn't want to give up desk space to a scanner. The S1100 line is about an inch high and will slide under your monitor. Functionally, it takes up no desk space.

I have used and recommended the highly regarded Fujitsu scanners and have had great experiences with a wide range of their scanners, from the small home ones to the heavy duty office ones. I recommend them without reservation.


Office Scanning Basics

To make office scanning work right, you need to have a scanner at your desk that you can feed stuff into. The flatbed scanner on top of your printer really won't cut it. The scanner needs to be able to quickly scan the page and then turn it into a searchable pdf file. It do this, it must come with high quality OCR (optical character recognition) software. The OCR software examines the image and converts the picture of a page into individual letters and words so it can be searched or edited.

There should also be some sort of management software to let you combine pages, or remove a page and to file your scanned documents. It should also offer profiles for dual sided scans to searchable pdf, color scans jpg, single sided scans to searchable pdf etc. I prefer that this software work on top of the operating system, so these individual files are also available for backup and for copying directly from the operating system, without needing special software.

These are office scanners. They use a single sheet feeder and don't have the color pixel density necessary for very high quality color photo scanning. To scaan high quality pictures, you want a different kind of scanner.


Factors to consider

How reliable and durable is it? The feed mechanism is the weak link, so how often will you need to replace or clean the rollers?
How fast is it?
Must it be mobile?
Good software. The software should help you organize the items you scan and work with other software.
Dual sided scans?
How much space does it require?
Range of paper it will handle
Will it work with other software? Does it need to? The standard for scanners is Twain. Twain compliant scanners will work with many different software options. Not being Twain compliant means that you are stuck with the software that comes from the manufacturer and it probably won't work if you find some fancy new software for document management.
Other features
Five Fujitsu Office Scanners

Fujitsu makes home / office scanners with the Scansnap brand. These will be best for most of my clients. These are not Twain compliant so if you are an accountant who needs to make the scanner work directly with your tax software, they probably are not the right option for you. On the other hand, the Scansnap scanners are so popular, that many devices and software have made themselves compliant with Scansnap.

All current ScanSnap scanners will scan directly to Word or Excel and all except the S1100i will scan to mobile devices via WiFi. They will all scan to pdf and all offer a variety of profiles to select the scan options your want.

If you need Twain compliance, then I recommend the Fi series.


Two mobile scanners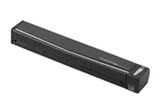 Scansnap S1100i Mobile scanner: $115 at Amazon. Average Amazon rating: 4.8

7.5 seconds per page.
300 dpi color
600 dpi b&w
They recommend cleaning rollers every 100 sheets.
Very small and will fit under your monitor. You must feed each sheet into it and it only scans single sided. However, it takes up essentially zero space and I used one for over 3 years and was very happy with it for my office. If you want to scan multiple pages, just feed in each page and it will add the next pages to the document. I never, in over 3 years and thousands of sheets, cleaned the rollers.

However, if the sheet is fully 8.5" wide, then you must be very careful to feed it in properly. Eventually, I decided I wanted a document feeder.

This scanner is powered by USB, so just plug it into your computer's usb port. No external power is required.



$200 at Amazon. A slightly newer version of the Scansnap 1100i. Only 66 reviews on Amazon. Average rating 4.6
Up to 600 dpi
300 dpi color.
5.2 seconds per page
Single sheet, single sided.
They recommend cleaning the rollers every 100 sheets
USB or Wifi connection

Will work on battery and scan wirelessly to a computer or mobile device. You plug it in via USB and then use the software to pair it to the scanner and charge it. From then on, you can use WiFi to scan to the computer, phone or tablet.

This scanner is battery powered and the battery is USB charged. The battery should provide for a couple of hundred scans, but it isn't meant as a large volume scanner.

If I needed a small mobile scanner, this is the one I'd get.


Kinda Mobile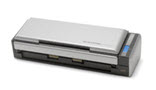 Scansnap S1300i Mobile Scanner Amazon $250 - 1,147 ratings; 4.4 average

12 ppm double sided or 6 ppm single sided (It scans at the same speed for either two sided or one sided scans).
Up to 10 page document feeder
Scan to Word, Excel and other software.
600 dpi x 600 dpi color max. 1 page per minute
They recommend cleaning the rollers every 200 sheets
Replace rollers every 100,000 pages
About 3 inches high.
This scanner can be powered entirely by USB, but also allows for external power.


Desktop Scanners
Scansnap iX500 Amazon price $415 - 2,605 reviews: 4.7 average rating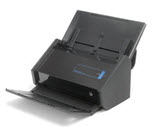 25 ppm. single sided or dual, even in 300 dpi color
Scan directly to: Word, Excel, jpg, Searchable pdf.
Dual core CPU
Scan to mobile devices via wifi
600 dpi color or 1200 dpi b&w
They recommend cleaning the rollders every 1,000 sheets.
Replace rollers every 200,000 sheets
50 sheet paper feeder.
This is the one I chose when I replaced my S1100. Notice it can go 5 times as long between cleanings and has twice the roller life. I love it. You get a sense of the reliability and duty cycle of this scanner when they tell you to replace the rollers after 200,000 sheets.

The bottom holder and top fold down, so it only takes up about half the space shown above when not in use, and the output tray does not need to be pulled down, though I nearly always do.


Workstation Scanner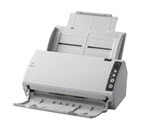 If you want a full blown Twain compliant scanner, the lowest cost one from Fujitsu is the Fi-6110. They've been selling it for a few years now, and it is a workhorse.


Amazon price: $710 - 38 Amazon reviews. Average rating 4.7
600 dpi - 50 sheet feeder; 20 ppm simplex;
Twain compliant usb
Daily duty cycle of 2,000 pages.
100,000 pages replace pick roller
Software

In addition to the ScanSnap Organizer, which allows you to quickly file, edit, view, combine or delete pages from scans the Scansnap scanners come with a business card organizer program.

The newer iX500 and iX100 now come with (or can update to) a receipt program that scans receipts into a database and tries to fill in common fields like vendor, date, amount, and credit card used. Then you edit those if needed and add tax category, subcategory and comment if you wish. This database can be exported to Excel, Quickbooks or pdf.

This would allow you to take a bunch of receipts and quickly scan them all into the database and searchable pdf files, then organize them quickly. You could then export to a spreadsheet or Quickbooks. Brooks Duncan has an excellent website devoted to effectively using the ScanSnap and has a great introductory article on this brand new software.

All the scanners come with the excellent Abbyy FineReader software which works great to convert a scan into a searchable pdf file. They can also directly scan to many other programs or Email.






Date: January 2016





This article is licensed under a Creative Commons Attribution-NoDerivs 3.0 Unported License.