Home
Forms
About
Current Newsletter
subscribe
Search All Articles
Browse by Category

Over five years ago I adopted Secunia PSI as the update management program for my clients. It has been a great help keeping my clients' computer software updated and patched. However, over time it has become slower and slower, sometimes just spacing out completely. It has also had trouble doing the updates, with clients having to call me for help with the updates. Recently, it just wouldn't install at all on a new system. I started looking for something better.

I have found a great replacement, Ninite Updater. It is not free, but the cost is very small. A one computer license is $10/yr., a 5 computer license $30/yr and further per computer discounts exist for 10 and 25 machines. I've been using it for a few months and it is terrific. I've put it on some client machines and it is working perfectly for them as well.


Why is it worth paying when Secunia is free?
Update checking occurs in the background, when updates are available, you are alerted.
Ninite downloads the updates to their very fast servers and does the updating for you flawlessly.
All the nagging for ASK toolbar, or McAfee are stripped out. No crapware is installed or offered. Your desktop shortcuts are not changed.
It is fast.
Even if two or three programs need updating, you'll just click update once. All the updating is handled for you.
Ninite updates 92 programs. They have chosen those very well, so the programs we should be updating are being updated and not others. I've posted their update list here.

So, what does it look like?
If Ninite detects an update, the icon turns red.



When it completes the update it turns green.





It checks for updates every few hours. I recommend that my clients make the switch to Ninite Updater. -- Even if you aren't one of my clients, you should probably use it.


Nothing is Perfect!
Even with Ninite Updater, there can be some difficulty. Sometimes a program is running and Ninite cannot update it while it is running. You'll get an error message like this: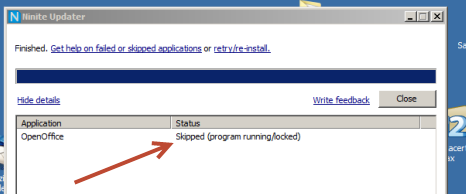 This clearly lets you know what is wrong. So, if you see it open, just close it. But, if you don't see it open, perhaps it is in the system tray and you can

Right Click

and

Quit

the program. I have to do this when Evernote updates. Then just run the update again.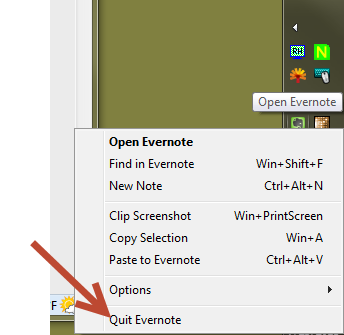 But sometimes the program doesn't seem to be running and isn't in the system tray, or is in the system tray but doesn't let you close it. In these situations I recommend using WinPatrol (the scotty dog) to close the application. Open Winpatrol and select the

Active Tasks

tab.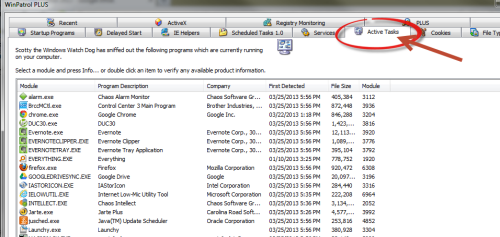 Find the task you want to stop, select it, and click the

KILL

Task button. Now try the update again.

I think you will be much happier with Ninite Updater than with Secunia PSI.





Date: August 2013





This article is licensed under a Creative Commons Attribution-NoDerivs 3.0 Unported License.