Thunderbird is Getting Rewritten
Preview:
Thunderbird will soon have major improvements. Here's why and a preview of what to expect.

Some History
Thunderbird was launched in 2003 as an open source Mozilla Foundation project. It became a major Email program and remains one of the best available email programs. It can handle your email and also handle your contacts, calendar and tasks. It was better than most of the commercial alternatives.
However, I was using a PIM (Personal Information Manager) for my calendar, contacts and tasks so only used the email part of Thunderbird. In time my PIM added an email program, which, though not as good as Thunderbird, allowed me to combine my contacts, calendar, tasks and email into a single coordinated program. I could add emails to tasks or calendar events. I could add email senders to contacts. I left Thunderbird.
Over time less and less work was done to improve it. In
2012
Mozilla announced it was withdrawing its support and would completely transfer out in
2013
. Work on its development waned. By
2015
I began to look for alternatives for my clients. I was unable to find any other programs I felt could replace Thunderbird.
In
2020
Mozilla established a new MZLA subsidiary to plan improvements for the next three years. MZLA now owns Thunderbird and has a growing group (over a dozen), of paid employees. They and a group elected by contributors created a roadmap and guide its future development.
Now
Internet protocols and software have changed significantly over the 20 years since Thunderbird was launched. The original software has been added to and patched and patched and added over and over. It is unsustainable. It won't make it into the future. This is what concerned me in 2015.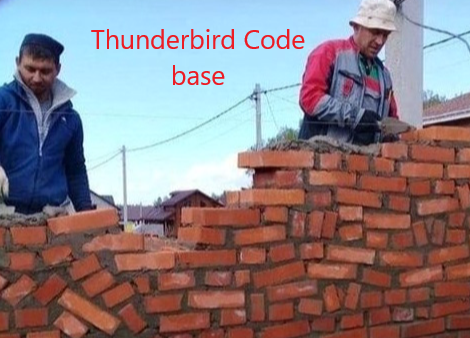 Mozilla and MZLA understood this in 2020 and began a rewrite from scratch. We've seen improvements over the last couple of years, but they are planning a significant upgrade for around July of this year. This will be the first of a few major changes. They will try and give users all the new features and flexibility new users want, without alienating older users. They expect to accomplish this by making Thunderbird very configurable.
they say:
With this year's release of Thunderbird 115 "Supernova," we're doing much more than just another yearly release. It's a modernized overhaul of the software, both visually and technically. Thunderbird is undergoing a massive rework from the ground up to get rid of all the technical and interface debt accumulated over the past 10 years. ... Simply "adding stuff on top" of a crumbling architecture is not sustainable, and we can't keep ignoring it.
More Information
This is their
blog post with 15-minute video
describing where they intend to go over the next couple of years. It'll also open your eyes to new features that are already there!
Date: February 2023

This article is licensed under a Creative Commons Attribution-NoDerivs 3.0 Unported License.