Kobo Clara HD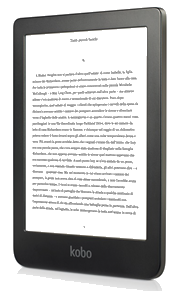 Preview:
Kobo makes a wonderful e-book reader which integrates into your library system and Pocket's read it later system. Here's my review.

My first e-book reader was the rocket e-book reader, which I bought in 1999. I much preferred it to paper books, but my cataracts might have been partially responsible for that. I bought a Sony e-book reader in 2007. In 2014 Sony quit the business and transferred my purchased books to Kobo. I've remained primarily with Kobo ever since.
Once Sony left the business, I began reading e-books on 6-8 inch android tablets rather than the gray e-ink readers. I liked being able to type and browse the web in addition to reading. Recently I purchased a Kobo Clara HD and really like it. The battery lasts me a couple of weeks. It's much lighter and is a nice reading experience. Using it for my main reading, leaves my tablet battery for news email and writing I can't do on my reader.
The Goal
The goal is a simple very light e-reader with a long battery life and a nice screen. I want all the many advantages of an e-reader.
The advantages of all Plain e-ink e-readers
This category of readers are grayscale, not color readers that also nicely browse the Internet. They're very light, have back lighting, and are designed for reading books. They have a screen size similar to a traditional paperback. The batteries last 2-4 weeks between charges, depending on your usage. They normally link directly into a bookstore.
Touch a word and you can look it up in the built-in dictionary or search the book or Internet.
You can change fonts and font sizes
You can adjust margins
You can adjust screen brightness
Glare-free screen
Text is clear and sharp


Why not Amazon?
This is the big question. If you're already locked into the Amazon e-book world, you might as well stay there and use their PaperWhite e-reader. It is comparable to the Kobo Clara HD I got and will provide similar features though some will be harder to use.
Years ago, Amazon decided to create its own proprietary format for books instead of going with the format created by the International Digital Publishing Forum. That format is called EPUB and is continuously getting upgraded and improved. Most book publishers, e-book stores and libraries worldwide support EPUB. It is an open format available to all e-book readers, all stores and all publishers. I decided I didn't want to get locked into Amazon's proprietary system.
Kobo has 99% of the books that aren't published directly and exclusively by Amazon. There are lots of other Online bookstores I can also buy from. Occasionally, I find a book I can't get in EPUB format and am forced to buy a paper version of the book because it's old and hasn't been digitized. On very rare occasion, I am forced to buy an Amazon book and read it on my tablet.
The advantages of Kobo readers
Kobo readers, and there are other more expensive ones, all have these features:
Built-in link to their bookstore
Built-in Overdrive for borrowing from libraries. You are offered library editions instead of buying books in your wishlist.
Built-in Pocket read it later app
It can use Adobe Digital Editions to send books from other online stores to your Kobo Reader. You aren't limited to Kobo.
Connects easily via USB cable to your computer to receive EPUB books you've purchased or acquired from anywhere.
It handles many formats besides just EPUB, including MOBI, PDF, TXT, HTML, RTF and others.
DRM
DRM stands for Digital Rights Management. It is how publishers can protect their books. They encrypt the books so you can't read them without paying for them. That is why you need a Kindle app or reader to read Kindle books or a Kobo reader or app to read Kobo books. But the Adobe Digital Editions Program can decode EPUB books then send the book to a connected Kobo reader. So, you can buy EPUB books from any bookstore then send them to your Kobo reader.
Why the Kobo Clara HD?
Kobo sells many readers but most had features I wasn't interested in, such as stylus writing on the touchscreen and waterproofing. I just wanted a plain reader with a really good screen. They also offer readers that will play audiobooks.
How do I use it?
Reading is fairly obvious. When I start a book, I adjust margins and font size. I've set my reader to turn pages by touching anywhere on the bottom third of the screen. I like that, so I can hold it in either hand and turn pages by touching my thumb to the bottom of the screen. I turn pages backwards on the top third of the screen and get options in the middle.
If I've already purchased the book from Kobo, I just click on
MyBooks
and download it from Kobo. I now use my wishlist much more than I used to. If there is a series of books, I put the next one in my wishlist. If I find a book I'm interested in, it goes into my wishlist. When I'm ready for a new book, I check my wishlist. Of course, I can buy each book, but also right there, it offers to let me borrow it from the library if there is a copy available. If all copies are already borrowed from my county's entire library system, then I can put a hold on it. So far, I've been able to find books I want to read available for immediately from the library.
This requires that you have a library card and set up an account with Overdrive, which the libraries use to lend books. Kobo built Overdrive into their readers to make is simple to borrow books. It is simple.
Another way I use it is with Pocket. Pocket is a read it later app from Mozilla so it is built into Firefox. I've downloaded the app for Vivaldi. When I see an article that is too long to read from my computer, I click on the Pocket icon and it puts the article in my pocket account. Then I can read it with my Kobo reader which has Pocket built-in as well.
The third thing I sometimes do is use
Calibre
. Calibre has many features but one is to connect to over 400 news sources and magazine of all kinds, many can be downloaded and sent to your e-reader and treated like a book I'm currently reading an article from the August issue of Philosophy Now on Immanuel Kant ideas of ethics and the tooth fairy.
I'm very pleased with how I can just plug my Kobo reader into my computer and the computer, Calibre and Adobe Digital Editions immediately recognize it. Calibre and Adobe can send books directly to the reader. Calibre can also send magazines. Also, since many programs will export files as EPUB, RTF or HTML, you can export many files and then copy them to your reader.
What doesn't work well
It doesn't handle anything designed for a large screen or 8.5" x 11" format will be awfully small on a 6" screen. Graphics don't display very fast. I wouldn't try Graphic Novels and many PDF documents will be hard to read, even turning it in landscape mode and scrolling down the page.
Stores that sell EPUB E-books
These are all bookstores I've purchased books from.
Kobo: https://www.kobo.com
Smashwords: https://www.smashwords.com
Google Bookstore: https://play.google.com/store/books
Ebooks.com: https://www.ebooks.com/en-us/
Books-a-million: https://www.booksamillion.com
Powell's city of books: https://www.powells.com


Further reading
Date: September 2022

This article is licensed under a Creative Commons Attribution-NoDerivs 3.0 Unported License.