This article will enable you to use one of the many excellent search engines that don't spy on you or sell your private information. Once you set up the engine, you can use it quickly and easily. You will also be able to use some site centered search tools, like Amazon, Home Depot and steveshank.com instantly. I have a list of a dozen such tools at the end of this article along with a brief discussion of why they are useful and the secret codes needed to add them to your browser. But first a little background.
Contents of this article:
Search engines are a big part of our lives. We often hear the phrase, "I'll google it". Many know about Google and Bing, but there are lots of search engines available and they act in different ways. Some might be more to your liking. Both Google and Bing offer their wonderful services free, but earn billions of dollars from their "free" search engine. They sell ads, they collect information about what we request and sell that and they have affiliates where they get money back if you visit sites and links they recommend. They track and our actions. Then they target information to appeal to us and sell ever more ads and get us to click more. This causes a problem besides privacy. It can create a silo where the search results and information we get is tailored to what we want to hear, giving us a slanted view of the world and greater separation between us and other people in different silos.
Three big problems are faces by all search engines:
How do we interpret the query? For example, if Pay day loans is the query, does the user want to know about the political question of pay day loans, or do they want the nearest pay day loan store?
How do we rank the results? What sources do we raise and which ones do we lower? Do advertising or political views affect this? Are affiliates that pay for clicks ranked higher?
How do we accumulate and index of over one billion websites in the world having over 20 billion pages with 10,500 new websites every hour and over 200 million websites actively changing so they must be re-indexed frequently? (Source: https://siteefy.com)
I currently use over a dozen search engines. Neither Google nor Bing are among them. Why would I use alternative search engines?
To preserve some privacy
To get better search results
To get specialized search results
They often present their results in a way I find better. It is easier to extract the information I need
For some searches, I don't trust the secret ranking or selection process of Google or to a lesser extent, Bing.
It is costly to index 20 billion web pages with millions changing daily. A few companies are trying it though and a couple do a good job. For example, Brave has its privacy centered search engine, but if it can't find enough results to satisfy you, it fills in with Bing. It also offers links to Google, Bing or Mojeek. However, some engines claim to have their own engine, but get nearly all of their results from either Bing or Google. Other engines don't try to make their own crawlers, they just get results from other search engines.
Adding search engines
For most search engines, you just need to go to
settings
then choose
search
and you'll get a list of search engines along with a form to add new ones.
In
Vivaldi
it looks like this: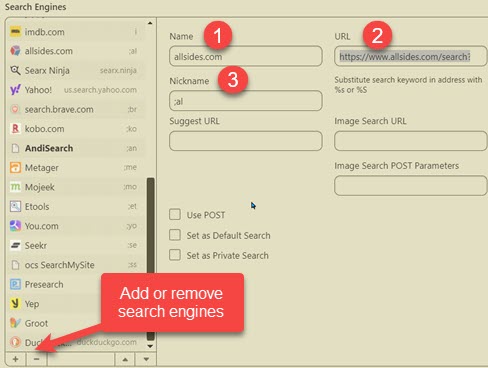 Don't worry about filling in the form now. I've got a list of over a dozen working URLs at the end of this article. You can just copy and paste them into your browser's form. Choose your own nickname, it's whatever you'll type into the address bar to use that engine. I recommend a semicolon (;) along with the first two letters of the search engine name, so
;qw
for Qwant. If I type
;am
it'll use Amazon.
;du
uses Duck Duck Go. The name slot is what will show on the list of search engines.
So, for example, if I type
;am usb hdd
into my address bar, it will search Amazon for USB hard drives (hdd)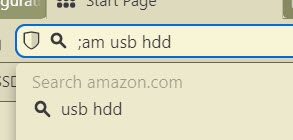 Notice that it alerts me that it is searching Amazon.
If I type
;ko white trash zombie
it'll search Kobo Books for white trash zombie ebooks. Great series by the way. I recommend it.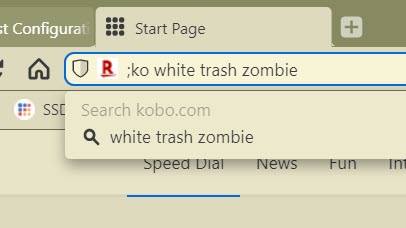 While if I type
;an ytd stock prices
it'll use AndiSearch to find a stock market from the beginning of the year.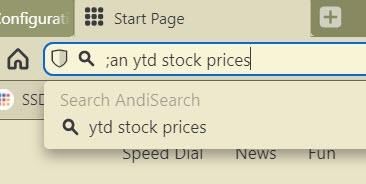 For other browsers it is also easy.
For
Brave
you perform these steps
Chrome works the same as Brave.
Edge hides the search options as much as possible. I suggest choosing
menu
then
settings
. Then doing a search for
manage search
. Select
Address bar and search
from the results. Then choose
manage search engines
. Then choose
Add
. At that point you'll get a menu like everyone else. Microsoft just hides it to make it harder to leave bing.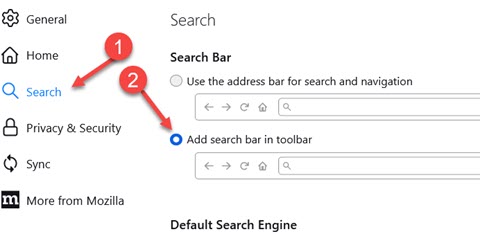 Then go to any website's search engine click inside its search box. If it follows certain protocols, a + sign will appear by the magnifying glass in the search box. When you click on that, it will add that search engine.

I went to https://Qwant.com to add the engine and clicked on the magnifying glass.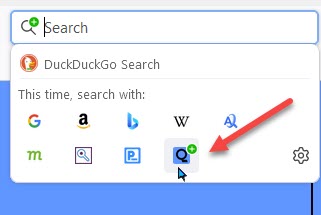 Then Firefox added Qwant to my search engines.
Then right-clicking in the search box lets you add a shortcut to use it.
In fact, you can add a shortcut or keyword for any search anywhere. If you
right click
on the search box on my website at https://steveshank.com, I can add a shortcut to search Oregon Computer Solutions.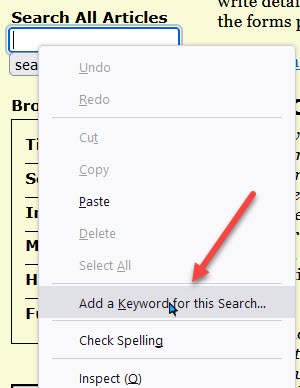 So, if I type ;oc search engines (after I've assigned ;oc for my shortcut), Firefox immediately searches my site for search engines.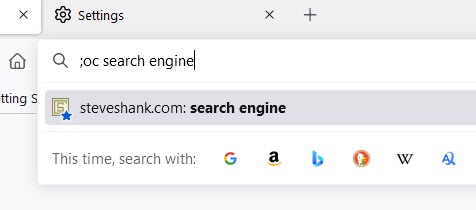 Notice that Firefox displays where it will search.
How to switch search engines quickly and easily
All browsers allow you to add search engines and to jump quickly from one to another with a shortcut. Currently, AndiSearch is my default search engine. By that I mean, if I enter a query in my address bar, it will use AndiSearch to find my answer. But if I type
;qw
it'll use Qwant. If I type
;am
it'll use Amazon.
;du
uses Duck Duck Go. My system is simple. Start with a semicolon because it is easy to type. Then add the first two letters of the search engine. Then a space bar and whatever I'm searching for.
My favorite search engines and when and how to use them.
These general search engines respect your privacy.
They don't collect information on you and sell it. You can try out these by going to their sites, or add them to your list and use the query URL I provide below. All URLS begin with
https:
so use what comes after use - .
The site-specific ones may not respect your privacy. I'm sure Amazon does not.
These get most or all their results from Google, Bing or Yahoo
Despite using Bing Yahoo or Google, these engines strip private information and maintain your privacy. There are many others, but I've found the best results from these.
Metager:

is a German engine that has its own crawlers, but mostly gets its results from Bing, Yandex and Yahoo. It survives on donations and ads and does a pretty good job. The URL for Metager is: Use - https://metager.org/meta/meta.ger3?eingabe=%s&submit-query=&focus=web

Qwant

: is an excellent French search engine that uses Bing supplemented by their own crawlers. They do a good job. Use - https://www.qwant.com/?client=brz-vivaldi&q=%s&t=web

Startpage

: Startpage uses Google search and strips off their tracking. Essentially, you are getting a privacy centered Google search which won't be able to tailor results to you. However, an advertising company bought them. That makes me nervous. Their Query URL is: Use - https://www.startpage.com/do/search?q=%s

Groot:

Like Startpage it privatizes the results it obtains from Google. After getting many Google results, it uses its own algorithms to find the best ones to present. Use - https://groot.ssuiteoffice.com/

Andisearch:

Has its own crawlers, but gets most of its results from Bing. The exceptional thing about this engine is that it has a pretty smart AI that parses your query and figures out what you want. It is the best I've found for complex queries. Also, compared to other engines, it tends to find manufacturer sites more often, while the same queries to Bing would return stores that sell the item. Use - https://andisearch.com/?query=%s
Stores you might want to search
Amazon:

Use - https://www.amazon.com/s/ref=nb_sb_noss?url=search-alias%3Daps&field-keywords=%s

Home Depot

: Use - https://www.homedepot.com/s/%s

Kobo Books

: Use - This is my favorite bookstore. https://www.kobo.com/us/en/search?query=%s
Single sites you might want to search
Wikipedia

: Use - https://en.wikipedia.org/wiki/Special:Search?search=%s

steveshank.com:

An amazing site with over 800 articles mostly focused on security, but also hardware, software and Internet. Use - https://steveshank.com/cgi-bin/bysearch.pl?srchquery=%s

YouTube

: Use - https://youtube.com/search?q=%s

Allsides:

The best site I've seen that presents the news from right, left and center. A good place to search for news on specific subjects. Use - https://www.allsides.com/search?search=%s&item_bundle=All&sort_by=search_api_relevance
These get most of their results from their own engine and crawlers
These three search engines are almost completely independent of Google, Bing and Yahoo. Their own engines provide most of their results. Furthermore, all three will normally give you the results you want. If they can't or aren't sure they may fill in with those or offer them at the end of their results.
These engines are scanning billions of pages a day and are developing intriguing algorithms to rank the best results.
Brave Search

: Brave search is provided by the same company that makes the Brave browser. Normally, when I search, all results are provided by their engine. They didn't need to use any other engines. It is a good option. Use - https://search.brave.com/search?q=%s&source=web

Yep:

Yep is yet another new option which is developing their own search crawlers and providing good results. Use - https://yep.com/web?q=%s

Presearch:

Is an interesting idea where users can increase or decrease the results algorithms. They are using their own crawlers. Use - https://presearch.com/search?q=%s. This is currently my favorite. Good results and very simple presentation.
MetaSearch Engines
There are some metasearch engines. These specifically use 10-20 other search engines that the end user can select. My favorite is
eTools.ch
. It lists 20 search engines and you can rank whether to use them and if so, how much emphasis to place on them? There are other options as well. Use - https://www.etools.ch/searchSubmit.do?query=%s
So many search engines, so little time.
Want more?
Just email me with a site you'd like the query URL for, and I'll see if I can figure it out, then I'll post the list next month.