How to clean up The Brave browser
Preview:
Give Brave a cleaner look by removing the unwanted options from the taskbar and new tabs.

As I've harped repeatedly in my newsletter, I don't like Chrome as a browser because Google makes its money by advertising and selling our private information.? ? Vivaldi and Brave are my choices. But Brave has a lot of worthless icons most of my clients don't want. Here's how to clean it up.
Brave has this bizarre idea that people will use cryptocurrency to join their rewards program. The rewards program gives them cryptocurrency for viewing ads. Generally, my clients don't want Brave's rewards program and don't intend to jump into cryptocurrency to get what they don't want. So, we can remove all that junk and give Brave a much cleaner look.
Remove their Rewards Program
There are a few separate places needed to remove their program that rewards you for viewing ads. Let's start by turning off Rewards.
From
settings
you can turn off rewards.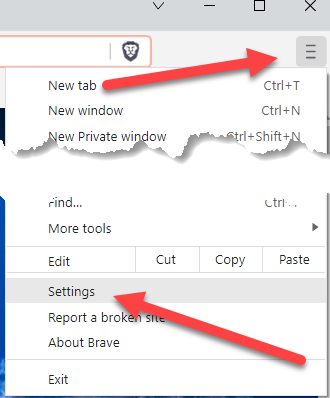 Choose the options (hamburger menu) in the upper right corner then select
Settings
toward the bottom. From
Settings
choose
Brave Rewards
and turn it off. I also turn off these:
Brave Private Ads
Auto-Contribute
Show non-verified sites in the list
Allow contributions for videos
Next return to
Settings
and choose
Appearance
. Then turn on
Hide Brave Rewards Button.
Brave also promotes their rewards through promotions from their home page. So, we want to turn off promotions on new tabs. From the new tabs page, choose the
Customize
button at the bottom of the first page.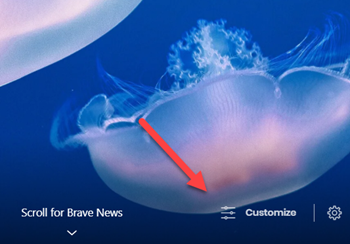 Now you can turn off
Show Sponsored Images
Customize your news?
While you're sitting there customizing your new tab page, Brave news is well worth checking out and customizing. It offers articles from many sources to give you a news feed tailored to what you want. If you're like me, you'll try and have many sources coming to you.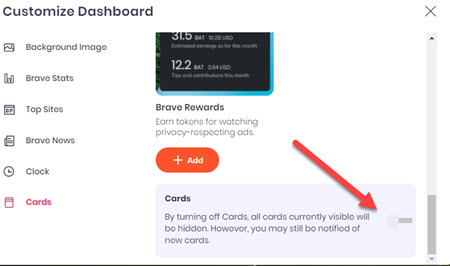 Date: March 2022

This article is licensed under a Creative Commons Attribution-NoDerivs 3.0 Unported License.