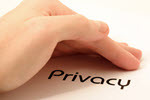 Opt out of advertising
Preview:
How to opt out of some customized advertising in Windows and Android. Widen your privacy circle.

Windows
Windows automatically provides all users with a unique advertising ID, which I prefer to turn off. Here's what their website says about it (emphasis added).
From Microsoft's website:
Windows generates a unique advertising ID for each user on a device, which app developers and advertising networks can then use for their own purposes, including providing more relevant advertising in apps. When the advertising ID is enabled, apps can access and use it in much the same way that websites can access and use a unique identifier stored in a cookie. Thus,

app developers (and the advertising networks they work with) can associate personal data they collect about you with your advertising ID

and use that personal data to provide more relevant advertising and other personalized experiences across their apps.
To opt out choose
Settings
then
Privacy
then
General
Then turn off
Let apps use Advertising ID
and
everything else
except allowing apps to see your language list.
Then, under
Settings
then
Privacy
then
Diagnostics & Feedback
I turn off "
Tailored experiences
" and "
Improved inking and typing
". I recommend turning off
Everything
you can here. Don't send your typing to Microsoft. Don't have them tailor your experience.
I think it is fair to ask, "
Wouldn't it be good to have Windows tailor my experience?
" If they did it right, it would be and perhaps, some day, it will be. But the proper way to do it is to collect the data on your local machine and do the tailoring on your own computer, sending no information elsewhere. This would be private and faster. Alternatively, they could offer us a percentage of what they make selling our private information.
Android
The same problems exist on Android. Opt out of Advertising tracking and reset the advertising ID you are automatically given.
Go to
Settings
then
Google
then
Ads
then
Opt out of ads personalization
Reset advertising id. This will replace your advertising ID with a random number in case advertisers don't follow the opt out instructions.
This works with Android version 6 and above.
Further reading:
Date: February 2022

This article is licensed under a Creative Commons Attribution-NoDerivs 3.0 Unported License.