Typing hides mouse cursor

Preview:
A helpful little program that stops your mouse pointer from covering text when you type into a field. I use it. Especially useful for those of us with larger mouse pointers.

One of my horrible first world frustrations is that when I click into an area to type, the mouse cursor covers what I'm typing and I want to see it. Then, I have to stop typing and move the mouse and then return to typing. Guess what? Someone smarter than me had this very frustration and provides a free source fix for it. You can download
Windows-Cursor-Hider
from
here
. It will hide the windows MOUSE cursor when you start typing! It will restore it when you move the mouse. Just download the executable.
When run, it will sit in the system tray and just wait for you to type. Then it will hide the mouse cursor. To pause or exit the program, just right click. It shows a white H on a green background in the tray because it is a small
Autohotkey
script that was made into an executable. There is nothing to install. Just run the program.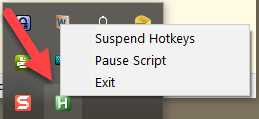 I've had it running for a few months and love it.
One more thing
The only imperfection is that you have to run the program. I'll never remember that! Way too hard. So, we have to copy the file into the startup folder. Then, it will run when you start your machine. Windows runs all the programs in the startup folder whenever you start your computer.
You might ask, "
why is that a problem?
" and the answer is that Microsoft seems to have held a contest for the most obscure place imaginable for the startup folder. It is a pain to get to. My startup folder is here:

Yours is likely in the same place if you substitute my
SS
with your username. But Microsoft also created a secret command to go directly to the startup folder!!! Only high-priced computer consultants know the secret commands. Microsoft issues us decoder rings.
Copying files to startup made easy
Using file explorer, find the file in your download folder, right click and choose

copy

.
Hold the

Windows key

down and press

r

for run.

Win-r

opens the Windows Run command box.
Type

shell:startup

Click

ok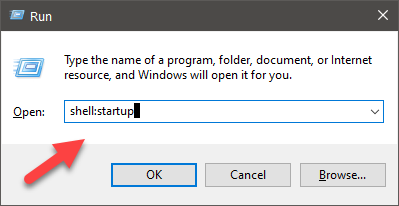 This will take you through a virtual wormhole, directly to the startup folder.
Click inside the folder space to make sure focus is there and press
ctrl-v
to paste the file into that folder. That's it! Your
Hide Mouse Cursor on idle.exe
will now run when you start the computer.

I'll be glad to do this for you if you like. If you are already on my normal maintenance schedule, just email me to add it to your maintenance.
Date: February 2022

This article is licensed under a Creative Commons Attribution-NoDerivs 3.0 Unported License.