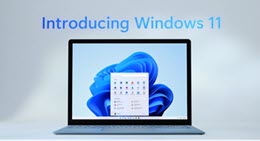 The most important things to understand are that:
You should wait 6 months before upgrading until they fix the bugs in the new operating system. Microsoft will probably do a feature update around April of 2022 and a couple months after that things should have settled down.
There are no important new features that make it important to upgrade.
Windows 10 will continue to be supported until

Oct 14 2025

They made it prettier with lots of rounded corners.
I think they've included some security options that will get used in time and eventually make Windows 11 more secure.
If you want a new computer, I'd try to postpone it for a while, then buy a Windows 11 computer.
Microsoft's Hardware requirements
They have listed acceptable CPUs (the brain inside your computer). As of October 2021, they have only accepted 8th generation or newer processors. These began being sold in 2018. I began selling them in May 2018. If you purchased a tower computer from me in May 2018 or later, you'll probably have an 8th gen processor or better. You can determine your Intel processor generation by the first number of its model. So, for example, an I5-

8

400, the 8 is the generation. An I7-

9

500 would be the ninth generation. Those would be compatible, but an I5-

6

600 would be a sixth gen and not compatible. My clients who bought computers from me can, of course, just call or look at their confirmation. Will Microsoft authorize earlier processors? No one knows.
It must have TPM (Trusted Platform Module) Version 2.0 and secure boot capable. If you purchased your computer from me after April 2018, your computer is OK. Others will need to check with their manufacturer or vendor.
For upgrades, you need Windows 10 version 2004 or better. 2004 is the first half of the year 2020.
Windows Home will require a Microsoft account to set up the upgrade. My clients with tower computers don't need to be concerned about this because I don't sell Windows Home. But, for laptops, you'll need to check.
There are some other requirements, but those will not affect many of my clients.
The TPM module 2.0 and secure boot were available but not enabled in most newer computers, so it is necessary to flip a switch in BIOS. Talk to me or your vendor when the time comes. These options made the system somewhat more secure, but harder to work on if something went wrong, so they were generally not turned on at the factory. If we decide to upgrade and have a later model computer, it'll be easy to enable the features.
How to check your CPU and operating system quickly
Click the

start button

, then settings
Choose

System

then

About.
This will give you your CPU (processor), Window Edition (Windows 10 Pro or Home) and Version.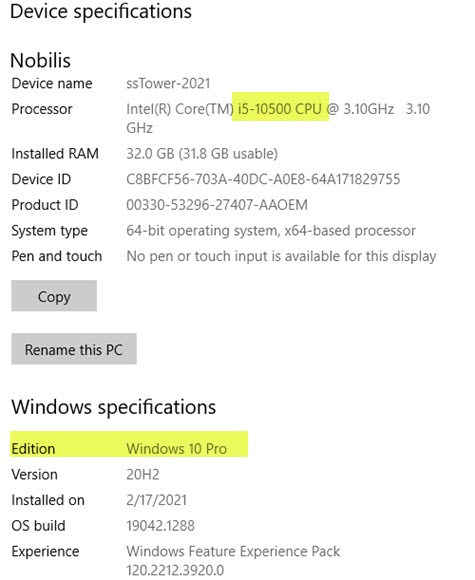 This computer shows a 10th generation I-5 (10500) and Windows 10 Pro for the edition.
Work arounds
There are many work arounds available. There are plugin TPM 2.0 modules, and some manufacturers claim their systems work fine with an upgraded BIOS they offer. Many HP and Asus older systems seem to work fine with Windows 11 after a BIOS upgrade. There is even a registry hack that I've heard, HP demanded and got. Since they don't actually use the TPM 2.0 features, it simply ignores the requirement.
But, we don't know if these unauthorized work arounds will function in the future. Since Windows 11 offers no compelling reason to get it, it is a needless risk.
New computers
Personally, I suggest waiting and not buying new computers if you can. Skip the "deals" with Christmas. If you need a new computer wait until January or February. Give the computer makers a chance to iron out many of the issues the new Windows brings to their hardware. If you can, postpone upgrading until June of 2022.