Turn off Fast Startup
Reboot and shutdown, what they do.
Article for: Everyone
Difficulty: Moderate
Importance: Can save you if things go wrong


Windows Shutdown versus Restart
Beginning with Windows 8, Microsoft decided to start Windows a bit quicker by saving the kernel and drivers to disk. If there is a driver or other hardware issue, shutdown is unlikely to resolve it. The problem will persist. Restart will reload all the kernel and drivers and remove possible issues.
Shutdown shuts down programs, but hibernates low level drivers and the kernel. Unless you have turned off fast start, it is active on your computer.
So, when you turn off your computer at night, and start it up again, it is re-loading any accumulated hardware or driver problems!
Restart reloads everything. It shuts down and restarts at the hardware level, while booting up from a shutdown state, with fast startup enabled only restarts the operating system.
This is insane.
When you turn on your computer, it should start clean, not reloading old problems. Turn off fast startup for a better cleaner startup. Spend the extra ½ second to remove potential issues.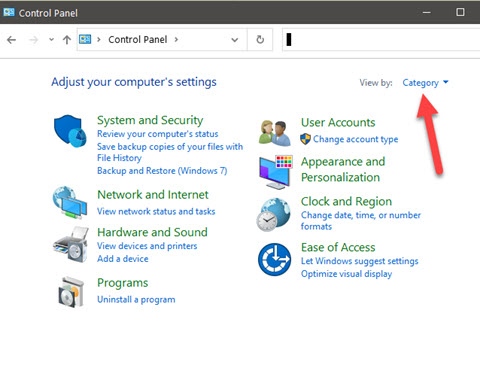 From the control panel in the
category
view. I get to control panel by typing
control
in the search box and choosing it. Then choose
hardware and sound
and
Power options
.
Then,
choose what the power buttons do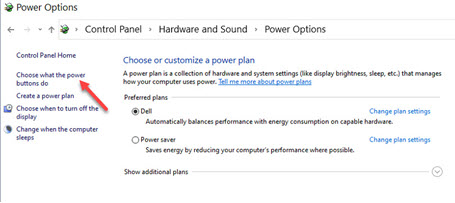 Which gets you to a place they call
System Settings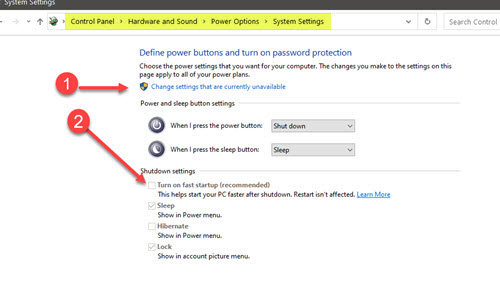 You'll notice you cannot turn off fast startup. First, you need to
Change settings that are currently unavailable
. Then you'll be able to uncheck the fast startup option.
Now, when you turn your computer on, it will load all the drivers and give you a clean start, just like rebooting does.
Those clients I performed maintenance on in September will already have their Fast Startup turned off. I did it as part of the normal maintenance in September.
Date: October 2021

This article is licensed under a Creative Commons Attribution-NoDerivs 3.0 Unported License.