My old router became a bit flaky, which forced me to reset it every week. Eventually, I purchased a new router. I chose the Asus RT-ax3000. This is a mid-range router with all the features I wanted. I think it is most likely to be an excellent choice for most of my clients as well.
What I like
Asus provides an excellent warranty (two years).
It is a WiFi 6 router
It has all the features I wanted and more
It is AiMesh compatible. AiMesh is Asus's mesh protocol. Just combine it with another AiMesh router or node and it will form a mesh network. It can function as a mesh node, router, or access point.
Works very well. My speeds improved especially at a distance and it just simply works.
Asus quality and dependability
It looks cool.
Strong and simple security
As I set it up, I noticed a menu item called:
AiProtection
. It scanned my router and checked 15 different security settings on my router as you can see below.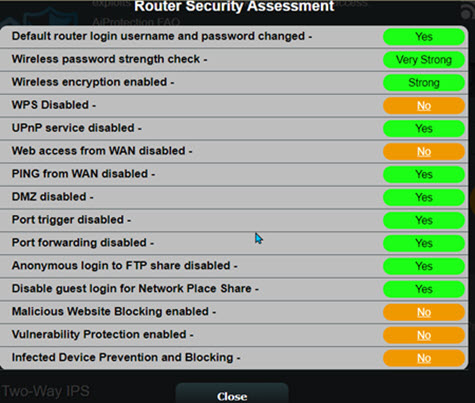 Just clicking on any of the
No
items allowed me to change it to the more secure setting. I quickly turned all of them on. Asus made a deal with TrendMicro to provide some security for the lifetime of the product. There are no continuing fees.
Honestly, I am getting no benefit from the three malicious vulnerabilities protections that TrendMicro is providing. They have blocked no malicious sites or resolved any problems. I think this is because I have other deeper systems in place that take care of it. Still, they would be useful for those without my extra layers of protection.
This router security assessment does provide an excellent check and an easy way to find all the items that should be checked without hunting through many menus for where the setting is hiding.
What I don't like
The only thing I'd like to see that it doesn't have is notification of firmware updates. I'd like to see a Windows notification or email, to let me know my router has a firmware update pending. As it is, I must periodically log into the router and check for an update.
Date: August 2021

This article is licensed under a Creative Commons Attribution-NoDerivs 3.0 Unported License.