How to turn off the new Microsoft News feed
Article for: Everyone
Difficulty:Very easy
Importance: Just cleaner more private Windows

With the May and June Windows 10 updates, Microsoft has added a new spy mechanism, or perhaps just a feature. Down in the bottom of your taskbar, is a news and interests feature. Yes, they'll find out what you are interested in, and if they approve, show you more stuff like that and of course, sell the information.
Whenever you move the mouse over that area, it pops up with news it imagines will interest you at that moment and suggest you login to your Microsoft account so they'll be able to combine that with other information they have on you. They'll also get a kick-back if you click on the links.
I found it irritating on client computers and got rid of it when it appeared on mine. Besides being irritating, Microsoft misdesigned it. First, it is actually an embedded webpage in your taskbar! Many find this blurry as well as scary that a webpage is always connecting to you regardless of what you are doing or what they might be sending. Next it ignores your default browser and forces you to use an old discontinued version of Edge. Nothing like ignoring our settings and forcing an abandoned web interface.
You can disable it by
right clicking
on an empty space in the taskbar and then choosing to turn it off.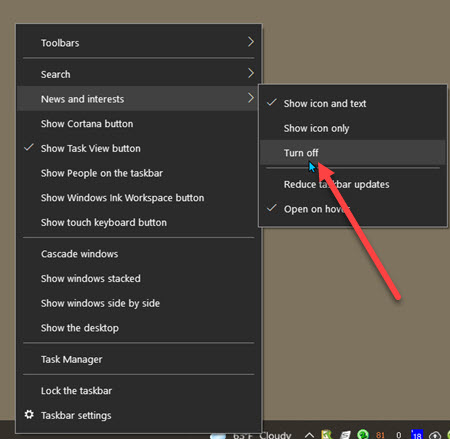 This is very easy and follows the other taskbar options like
people
and the
Cortana button.
Further reading:
Date: July 2021

This article is licensed under a Creative Commons Attribution-NoDerivs 3.0 Unported License.