Article for: Anyone using Quicken or interested in a personal finance program
Difficulty: Bookkeeping isn't easy.
Importance: As Quicken gets more and more expensive, and clumsier and clumsier, a good alternative is more and more valuable

For various reasons, I abandoned the money grubbing evil Quicken program and found an alternative that treated clients properly. MoneyDance is better, costs less and allows you to purchase the program and not pay on a subscription basis. I like it.
What is it good for?
MoneyDance is a Quicken replacement, but also much more. It is simply a better personal finance manager. It will handle all your personal financial, credit cards, investment accounts, checking and savings accounts. You'll be able to do just about everything Quicken can do. Often you can do it more easily.
Can I use it for business?
I use it for my business. I can get all the reports I need for taxes. I can separate out my personal and business expenses. I can divide my income into gross income and cost of goods, subtotaling to net income.
However,
MoneyDance is not made for business
. It works for me because:
I am not incorporated.
I do my own bookkeeping. I give the results to a CPA for taxes, but I'm not hiring someone else, so I don't need an audit trail. If I cheated myself, I'd still end up with the money.
I have another program that handles billing and accounts receivable.
I do not have any payroll.
I operate on a cash basis.
If you have a similar sole proprietorship, you could look at it as a possibility, but it is not appropriate for most businesses.
Basic Features
Excellent Quicken alternative
Can track investment, checking, savings, loan and credit card accounts.
Is quick and easy to enter transactions, clear transactions, or move transactions to another account.
Maintains a dual entry system, without being difficult to use.
Very easy to use.
Has versions for Windows, Mac, and Linux, plus mobile versions for Android and iOS.
Their mobile versions that can sync through Dropbox and perform most basic tasks.
They license MoneyDance per household, not per computer for personal use. However, for businesses, they want you to buy a license for each business or computer.
You purchase MoneyDance, instead of paying a subscription fee. Purchases allow all upgrades for the current version, and also the next version. After that, you can buy newer versions if they have features you want at half price, but you can continue using the older versions.
Does a good, but not great job importing online transactions from banks and credit cards. It'll probably work with most of your accounts.
Good security and excellent backup.
You can download versions all the way back to 2005 to install on a new computer. If you have a license, you can continue to use it even if you change computers.
The price is $49.95.
Excellent trial period. You will can determine if it works for you before you pay anything.
You can hide old accounts.
Handles budgets
Excellent reminder system
Imports from Quicken and MS Money.
Excellent online support, both from staff and also their forum.
Does not do payroll
Does not do Accounts receivable and billing
Does not have a locked audit trail. You must trust your bookkeeper.
No phone support.
My experience
I could import all my bank accounts, credit cards and investment accounts with little difficulty. I followed advice I heard and didn't do it all at once, but imported the accounts one at a time.
I found data entry, split transactions, and everything else easier to use than Quicken 2016. Backup worked better as well. I don't import transactions online, but just go online and check against my accounting. A friend downloaded all her USBank transactions without difficulty. I enter my transactions as I make them and then just verify with the bank online. It is quick and easy to mark the transactions I see online as cleared.
I could get all the reports I needed for taxes and personal interest. I configured the opening dashboard, so it is better and easier for me than Quicken ever was. The left panel is like a table of contents.
The summary page
MoneyDance has a summary page that is configurable in three sections. Their example shows how they have things configured.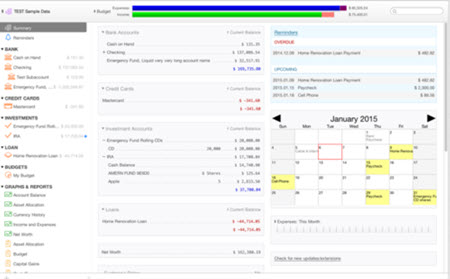 As you can see, theirs is rather complex. On the left pane, you can show or hide any account. So I hid dropped credit cards and investment accounts. They appear in reports, but I do not need them on my summary page.
This is my summary
left pane.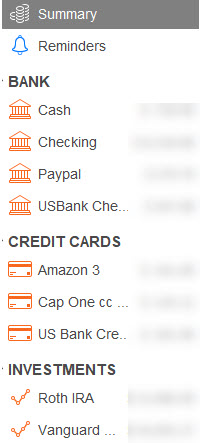 Below the investments is a list of reports. MoneyDance has lots of reports, but, as with the accounts above, any report can be hidden, so the only ones I have listed, are those I might actually use! All reports and accounts are still accessible from the pull-down menus.
The middle and right pane allow you to select which items will be added to or removed from those panes. From the list of many possibilities, just add or remove for each of those two panes. Then you can move any item up or down.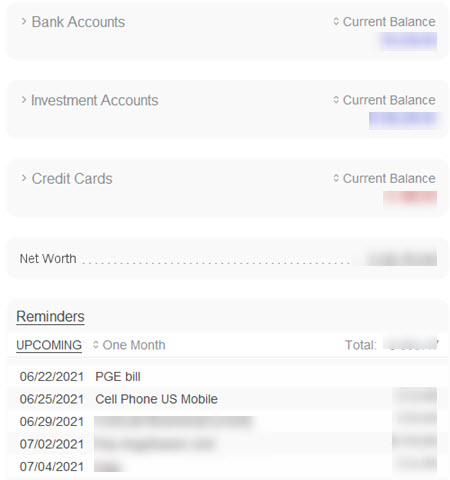 For the accounts, clicking on the
>
breaks out to show all the accounts of that type. I use
current balance
for the balance, but it also offers
balance
(include future items already posted), and
cleared balance
.
I like the reminders. As you can see, I set it for one month, but MoneyDance has a wide range of date options. Reminders are of two types:
Automatic withdrawal of a fixed amount on a fixed schedule. MoneyDance can set these to insert the transaction in your appropriate account ledger for you.
Reminders that are not automatically withdrawn or not always the same amount. You add these as simple reminders, because action on your part is required.
The total for upcoming, sums all pending known amounts for the time period specified. When the item is posted, it is no longer upcoming. Reminders that have to be hand posted, because they are not fixed amounts, are removed from upcoming by right clicking on the reminder and choosing
Acknowledge
. This way, you will see whatever needs to be paid, and don't see what has already been paid. However, reminders that have been paid show on the calendar in light grey as the Hulu payment in my calendar below.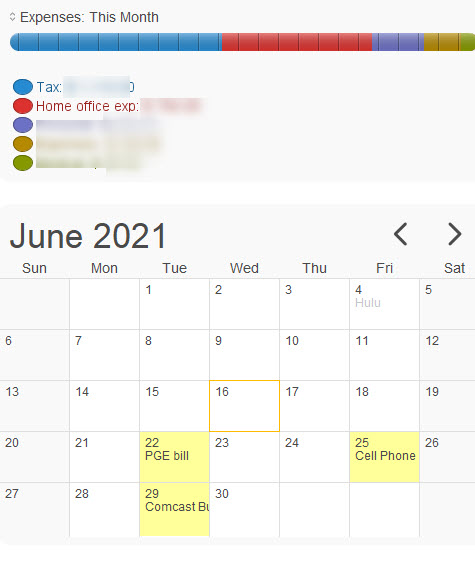 I show a breakdown of my expenses and a calendar of my reminders on the right pane. The Expenses are currently showing by month, but there are many time periods available. I like to see how things are going this month. You can zoom any group to see the details that contribute to that total.
Summary
I am thrilled with this purchase. For my purposes, it is better than Quicken and is certainly a more responsive company. You can download it and try it out for free, importing accounts, posting transactions and everything else. You can continue for free until you have 100 manually posted transactions, so you can test it thoroughly.
For personal finance, or some sole proprietors, this is the best option I've found.
Date: July 2021

This article is licensed under a Creative Commons Attribution-NoDerivs 3.0 Unported License.