When a program will not start
Article for: Everyone
Difficulty: Easy
Importance: Can be very useful when needed
Every couple of months a client call me and tells me that a program that he or she normally uses, '
just won't start
'. Indeed, I run into this myself once every two or three months. So, what's going on? There is usually a quick fix. Here it is.
Press
CTL-Shift-Esc
to run Task Manager. If you don't see much, click the
More details
option in the lower left.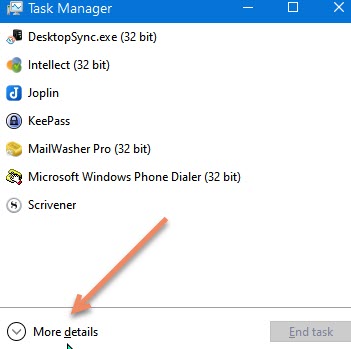 Now make sure you choose 1. the
Processes tab
and then select the Name column (2) to sort by as shown below.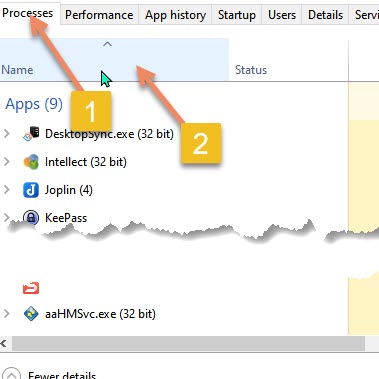 If Firefox didn't start, just scroll down to that field and see if one or more instances of that program are running. If so, then END all of those processes and try again. It'll probably start right up.
What usually causes this, is that a program doesn't close all the way, so it was partially open in the background, or possibly, it was starting up and you clicked again to start it again. Then the two or more instances got in a fight with each other and it ended up in a draw, with neither able to assert dominance. Closing all instances that were partially running, will allow a new instance to start normally.
Date: February 2020

This article is licensed under a Creative Commons Attribution-NoDerivs 3.0 Unported License.