Microsoft Security Improvements
Article for: Everyone
Difficulty: Easy
Importance: Useful to moderately improve security
It is important to have layered security. The later versions of Windows 10 offers two new security features. One I recommend for nearly everyone. The other is a good option if you believe you have a virus.
Windows Security Scans
If you go to:
Start

Settings

Update and Security

Windows Security

Virus and threat protection

Scroll to the very bottom

Windows Defender Antivirus options

Enable Periodic scanning
Periodic scanning will check your computer when it is not busy. It has not interfered with my work in any way I can detect. This just gives us another unobtrusive automatic check for infections.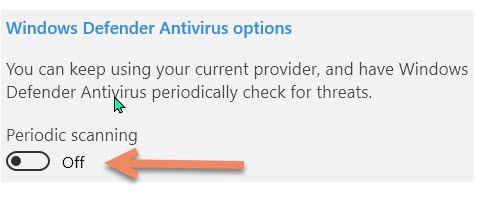 Just turn on periodic scanning.
Once you enable scanning, you will have a new set of options and more information.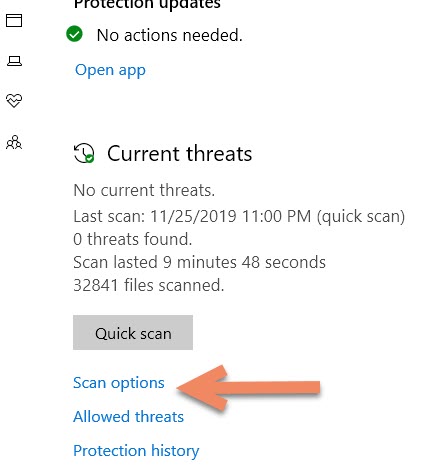 You will get information about Current threats, Scans, Allowed threats and Protection history. I recommend selecting The Quick scan. The protection history is where you'll find the results of scans.
In case of Big Trouble
If you think miscreants infected you, despite your anti-virus, Microsoft offers the Offline scan. So, you follow the steps above and choose:
Scan options

Then

Offline Scan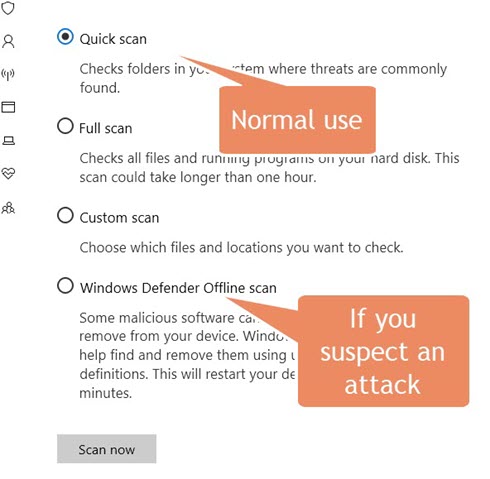 While the Quick scan is nice for having it occasionally pop in and check for problems when the computer isn't busy, the Offline scan is for when you suspect you are infected and in trouble. If a virus were to get past your protections, it could conceal itself from your anti-virus. This is what the Offline scan checks for. Before running it, close all your programs.
The Offline scan reboots your computer into a special recovery environment. Windows does not run normally or load the normal programs, so probably, the Virus wouldn't get loaded and be able to protect itself. Then Microsoft goes after any infection it can find. This is a good way to get deep infections that normal methods can't remove.
You should also run your normal anti-virus in a deep scan mode as Microsoft is only looking for the deep stuff with this method.
You also can scan other drives or do a deep scan, but I believe your normal Antivirus is better for these functions.
Date: December 2019

This article is licensed under a Creative Commons Attribution-NoDerivs 3.0 Unported License.