WordWeb
Article for: Anyone who writes
Difficulty: Easy
Importance: Useful program
I've been using this handy little program for at least 15 years. For example, in writing this month's newsletter, I use the word siloed, but wanted to check the spelling. I pressed
Ctrl-Alt-W
and WordWeb popped up and showed me I had spelled it correctly. The program I was using to write the article, didn't know the word, so marked it as misspelled.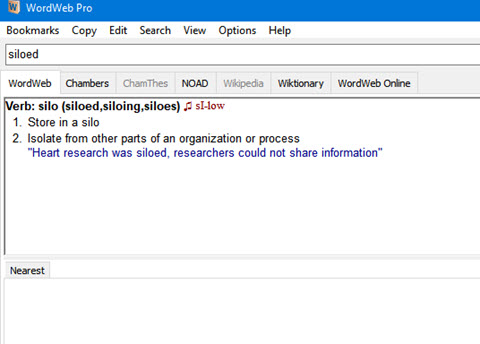 At the beginning of this article I began to write about this useful program, but clicked on
useful
and looked it up with the WordWeb thesaurus and switched it to
handy
. WordWeb offers a free version, a pro version, and many add-ons.
WordWeb
's free version has these features.
Definitions and usage examples
Synonyms and many related words
5,000 audio pronunciations
160,000 root words
220,000 word senses
Fixed web reference tabs (Wikipedia)
I use their Android version on my tablet.
However, many years ago I purchased the pro version, and updated for a small fee a few times since then. My records show I upgraded in 2009, again in 2013 and again in 2016. The last upgrade cost $12.
The Pro version costs $19 and has these features
70,000 audio pronunciations
Add new words
Custom glossaries and web references
Optional add-on dictionaries and word lists
Wildcard and full-text search
Find and solve anagrams
Plus all the features of the free version.
The full text search is cool. If you forget the word for something, but know the definition, you can search definitions for words. So, if I needed to know who the Greek God of the Sea was, I could search Greek and Sea and learn that Poseidon was the Greek god of the sea, and his son Triton was also the god of the sea.
It offers many dictionaries and thesauruses which work with their engine, but normally, their standard dictionary is all I need.
You can configure WordWeb to start with Windows and get activated with either a mouse click or a hotkey on any word you select.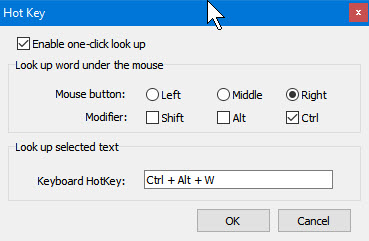 You can see above, that I've configured WordWeb to launch against any word I point to with the Ctrl-Right click mouse button, or Ctrl-Alt-W keyboard when pointing to a word.
References
Date: August 2019

This article is licensed under a Creative Commons Attribution-NoDerivs 3.0 Unported License.